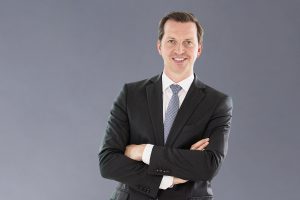 Tobias Sauerbier has been Managing Director of SIGNA Real Estate Management Germany GmbH since March 2019 and is a member of the Managing Boards of SIGNA Prime Selection AG and SIGNA Development Selection AG. Together with Timo Herzberg, he is currently responsible for all of SIGNA's real estate activities in Germany.
Founded in 1999 by entrepreneur René Benko, the SIGNA Group is a privately held industrial holding company in the real estate and retail sectors. With real estate assets of over twelve billion euros and an additional development pipeline of around eight billion euros, the company is one of the most ambitious real estate investors in Europe. In metropolitan hubs such as Berlin, Hamburg, Munich and Vienna, it owns and develops numerous striking buildings in city-centre locations, including KaDeWe and the Upper West Tower in Berlin, the Golden Quarter in Vienna, the Alte Akademie in Munich and the Alsterhaus, Alsterarkaden and Elbtower in Hamburg.
The SIGNA Retail Group is one of the leading trading platforms in Europe with more than seven billion euros in sales, around 45,000 employees at 320 locations and over 100 web shops in 20 countries. In 2014, SIGNA acquired the retailer Karstadt. Last autumn, Karstadt and Galeria Kaufhof, two of the last major German department store chains, were merged under the management of the SIGNA Group.