FAST FORWARD by Architecture Matters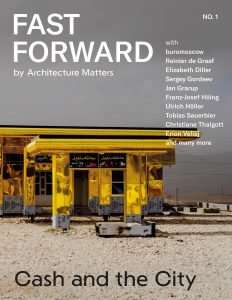 This first issue is devoted to the complex interplay between cities and money. Until a few months ago, skyrocketing land and property prices around the world and their impact on society were omnipresent in the public debate. As of this printing, much is overshadowed by the Covid-19 pandemic. But it has not made any of these issues less relevant. Indeed, our living and working environments are changing even faster, as is the transformation of our inner cities. The global population is growing, and urban flight is not an option for the broad masses. We need concepts for dense, liveable, mixed cities that consume fewer resources in the future than they do today. City and money. Who are we building for? And why? What does quality mean for a building; what does liveability mean for a city? Can it be calculated? How is urban planning possible when money is scarce? How can all sides contribute to the common good?
With contributions by Buromoscow, Reinier de Graaf, Elizabeth Diller, Sergei Gordeev, Jan Grarup, Franz-Josef Höing, Ulrich Höller, Tobias Sauerbier, Matthias Standfest, Christiane Thalgott, Erion Veliaj, Torben Bayer.
2022 magazine and conference hone in on the dense city by looking at three main topics: structural density (including inner-city redensification, preservation of existing structures, high-rise buildings); digitalization (smart city, big data, data centres, energy consumption); and mobility (individual mobility, infrastructure, networking).
Fast Forward no.2 Dense City will we released for the next Architecture Matters Conference, May 19-20 2022. Buy now for a  of 14 EUR instead of 24 EUR at Ruby Press.
Special thanks to our founding partner GIRA